Girl's Red Casual Dress (4-6 years old)
Price: $80.00
Specifications:
Please click image below for specification of this dress.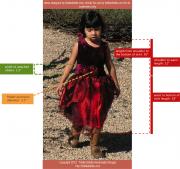 Here are the material details used for this dress:
+ Upper part: velvet with floral design
+ lower part (sheer skirt): organza
+ lining: silk fabric
+ floral accessories: organza
+ ladybug button color: red (currently not available, but there are other beautiful buttons that can replace this)
+ buttons as closure in the back: half-white
+ button in the belt: black
If you have further inquiry about customization of this product, please use the contact form below.
The Designer's Story:

I designed and made this dress for our daughter's Christmas day church dress. The dress is all made from recycled/repurposed materials that I acquired during one of our neighbor's garage sale, and the sheer skirt material that flows with the dress was from a shawl a friend of mine got from a thrift store. This was an experimental dress that turned out to be stunning.

Now I am offering customization of this dress (materials included) to share this beauty to your lovely little one.

Please note that for customization, brand new materials will be used, and fabric design and texture may vary, as well as stitching for the sheer skirt material.

You may request which color you want to be used, but please remember that the fabric design/prints/texture may vary a bit. This variation also maintains authenticity of your design.